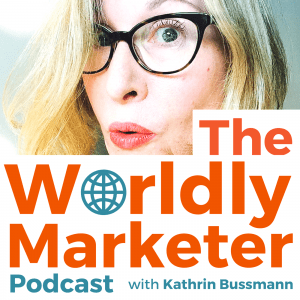 The Worldly Marketer Podcast is the show that brings you valuable insider perspectives on what it takes to grow your business in today's global marketplace.
In the Digital Age, even small brands can build a worldwide customer base.
Every week, Kathrin Bussmann talks to a different expert in the field of global marketing to learn more about the challenges and the rewards of reaching out to a multi-regional, multilingual and multi-cultural audience.
Click on any episode title below for the audio link and show notes.
You can also listen to this podcast via iTunes, Google Play Music or Spotify.
List of Episodes
Like what you hear? Please support the show:
Interested in advertising your product or service on this podcast?
The Worldly Marketer Podcast is open to sponsored ads, if they're a good fit.
For more information, contact Kathrin.