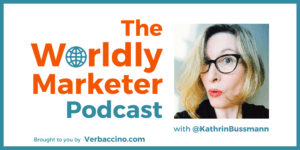 As you know, The Worldly Marketer Podcast is my interview-style audio show that explores the challenges and the rewards of going global in the Digital Age.
Since launching the podcast in May 2016, I've been committed to producing new episodes on a weekly basis. So far, it's been a one-woman operation. There has been a very steep learning curve, but I've loved every minute of it, and I've learned so much in the process.
I want to keep the podcast going, and I wish I could keep doing it 'pro bono', as I have been for almost two years now. But that's just not sustainable, given the amount of time, effort and constant commitment involved. I've come to realize that I have to monetize it somehow – especially if I want to be able to attend key industry events in search of the latest topics and expert guests.
With my 100th episode on the horizon, it's time to make this podcast truly sustainable, so that I can focus on creating more high-value content for you week after week and make the show even better going forward. I've received such positive feedback from so many of you, and I know my audience is made up of the most wonderful, enthusiastic, global-minded people.
So rather than going straight to an advertising model, I'm inviting you to support me on Patreon, a crowdsourced funding platform. Never heard of Patreon? Here's more information about it.

If you're a fan and you get real value from the podcast, here's your chance to give back. For as little as $3 per month, you can become an active supporter of The Worldly Marketer Podcast. That's about the price of a cup of coffee.
And the greater your support, the greater the rewards.
Let's keep on learning and keep on growing together!
Cheers,
Kathrin Bussmann
Founder & Principal at Verbaccino
Producer & Host of The Worldly Marketer Podcast